وَأَنزَلْنَا مِنَ السَّمَاءِ مَاءً بِقَدَرٍ فَأَسْكَنَّاهُ فِي الأَرْضِ وَإِنَّا عَلَى ذَهَابٍ بِهِ لَقَادِرُونَ (١٨) فَأَنشَأْنَا لَكُم بِهِ جَنَّاتٍ مِّن نَّخِيلٍ وَأَعْنَابٍ لَّكُمْ فِيهَا فَوَاكِهُ كَثِيرَةٌ وَمِنْهَا تَأْكُلُونَ
Blueberry Muffins with Barley Flour & Olive Oil
This recipe is posted on behalf of "Aziz Family" who are based in UK.
Ingredients:
Blueberry Muffins 150g, barley flour mixed with 50g brown sugar, 1/2 tsp baking powder and a pinch of salt 1 egg, (beaten), 50g olive oil 100ml milk 75g blueberries or raisins or dates(chopped)
Heat the oven to 200 degrees Fahrenheit and line a 6-hole muffin tin with paper cases. Mix the egg, blessed oil and milk quickly into the dry ingredients with the blueberries (don't over mix, it should be a bit lumpy). Divide between the cases and bake for 25 minutes until risen, turns golden and cooked through.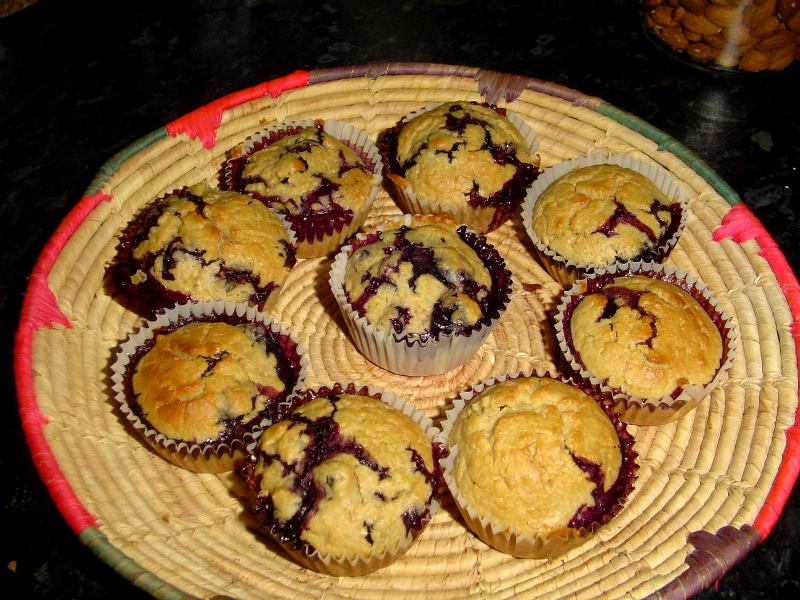 Online Guests
We have 193 guests and no members online